February 11, 2014 § Leave a comment
---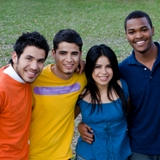 ---
---
Vera Muzzillo, the CEO of Proforma, an advertising specialty and graphic communication franchising powerhouse, entered into her role in 2000 when the firm was recording annual revenues of about $150 million. Under Vera Muzzillo's leadership, revenues escalated rapidly, and by 2010 had surpassed $350 million. Both she and her husband Greg, Proforma's founder, have a strong sense of service to succeeding generations; they both teach business classes at her alma mater, Notre Dame, and Vera Muzzillo enthusiastically participates as a volunteer in the activities of two local schools, Holy Name and Brother Rice.
Located in the Detroit suburb of Birmingham, Michigan, Holy Name Catholic School is a co-educational school serving between 350 and 400 students from pre-school to grade eight. Founded in 1928, the school enjoys an excellent reputation within its community and is supported by an active parent service organization (PSO) that assists the school administration and faculty in a variety of ways, including with social activities, volunteer activities, and fundraising.
Brother Rice High School, located just three miles from Holy Name in the neighboring town of Bloomfield Township, was founded in 1960 by the Congregation of Christian Brothers. It is named for the Christian Brothers' founder, Brother Edmund Ignatius Rice, and is one of more than 2,000 schools worldwide founded by the congregation. Brother Rice is a non-residential high school which offers a Catholic college preparatory education to nearly 700 young men. It fields athletic teams in 15 different sports and has won 61 state championships since its founding, including the 2012 titles in football, ice hockey, lacrosse, and golf.