February 25, 2014 § Leave a comment
---
---
---
Vera Muzillo understands the difficulties of becoming an entrepreneur. Prior to becoming co-CEO of Proforma, she spent years in the banking industry. With her experience, Vera Muzillo is able to provide awareness of the company's banking and financial needs. She finds that becoming an entrepreneur has been challenging yet rewarding.
According to James Davis, a professor at the Mendoza College, there are three types of entrepreneurs. The first group of entrepreneurs have an idea or solution that they've created and are passionate about. The second kind of entrepreneurs often come from a family business background and are predisposed toward owning their own business. The third group of entrepreneurs have been spurred by the downturn in the United States economy and are looking for a transition in their career.
---
---
---
Jeffery A. Bernel, entrepreneur and instructor at Mendoza, believes that there are four reasons start-up companies succeed or fail. Mr. Bernel believes that a business must have the ability to shift when the economy and market shift. Successful entrepreneurs also have the ability to delegate and the ability to understand the market that they serve. Lastly, entrepreneurs must understand and be able to manage and choreograph cash flow as the business grows.
February 11, 2014 § Leave a comment
---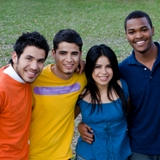 ---
---
Vera Muzzillo, the CEO of Proforma, an advertising specialty and graphic communication franchising powerhouse, entered into her role in 2000 when the firm was recording annual revenues of about $150 million. Under Vera Muzzillo's leadership, revenues escalated rapidly, and by 2010 had surpassed $350 million. Both she and her husband Greg, Proforma's founder, have a strong sense of service to succeeding generations; they both teach business classes at her alma mater, Notre Dame, and Vera Muzzillo enthusiastically participates as a volunteer in the activities of two local schools, Holy Name and Brother Rice.
Located in the Detroit suburb of Birmingham, Michigan, Holy Name Catholic School is a co-educational school serving between 350 and 400 students from pre-school to grade eight. Founded in 1928, the school enjoys an excellent reputation within its community and is supported by an active parent service organization (PSO) that assists the school administration and faculty in a variety of ways, including with social activities, volunteer activities, and fundraising.
Brother Rice High School, located just three miles from Holy Name in the neighboring town of Bloomfield Township, was founded in 1960 by the Congregation of Christian Brothers. It is named for the Christian Brothers' founder, Brother Edmund Ignatius Rice, and is one of more than 2,000 schools worldwide founded by the congregation. Brother Rice is a non-residential high school which offers a Catholic college preparatory education to nearly 700 young men. It fields athletic teams in 15 different sports and has won 61 state championships since its founding, including the 2012 titles in football, ice hockey, lacrosse, and golf.
February 5, 2014 § Leave a comment
Multitasking is the ability to complete multiple tasks simultaneously. Vera Muzillo, co-CEO of Proforma, wife, and mother of ten, has learned to master this ability. Having won numerous awards for her leadership and business skills, Vera Muzillo is able to keep up with her busy life while still keeping her cool.
Learning how to multitask effectively is critical to increasing productivity. The following techniques help maximize effectiveness while multitasking:
1.) Bundling together similar tasks saves time. During a transition to a new task, the brain has to shift focus, which wastes valuable time. If the tasks are similar, it is easier to move between them.
2.) Creating a to-do list that is ranked by priority provides a visible reminder of what really needs to be accomplished.
3.) Reviewing new information when multitasking can interfere with the ability to grasp this new material. It is best to take time to go over new information at a later time.